Literature, Images, and Collections: Assemblages of Settler Colonialism in Latin America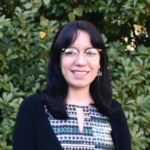 Sahai Couso Díaz is a 2022-23 Graduate Student Fellow from the Department of Spanish and Portuguese. 
My current research builds upon the growing engagement by decolonial scholars and public intellectuals with long-lasting, pseudoscientific rhetorics of race. I fold together poetry, natural history, proto-anthropological debates, archival documents, scientific collections, and images to elucidate the local and global means through which racial identities and racialization were negotiated and mediated. In my dissertation, I argue for an understanding of the act of collecting in a broad sense. The collection takes the form of a cabinet, a museum, catalogs, natural histories, and travel accounts that rely heavily on artifacts, "monuments," the explorations of material objects, as well as aesthetic representations in literary works.
I have found inspiration in Lorraine Daston arguments in "Speechless," the introduction to Things that Talk, in which she argues that we need "to confront the paradox head-on," "that things are simultaneously material and meaningful." In my dissertation, I comparatively examine the works of a number of authors and collections as part of a three-dimensional crossroads connecting two continents, with a special emphasis on the study of sedimented discourses about race. Collections are forms of knowledge-organization and a clear attempt to produce meaning, but they are also bound to the materiality of the objects or artifacts they aspire to organize.
In this context, I am particularly interested in how the development of scientific practices and theories in the 18th and 19th centuries was closely related to an increasingly connected world. My study of collections, natural histories, and associated discourses therefore gauges the tensions between circulation and locality. Accordingly, my project adopts a broad and multi-focal framework for a comprehensive examination of the historical and cultural record, while considering hemispheric connections and global flows. I believe that it is necessary to evaluate overlapping Inter-American dialogues, transatlantic circuits, and global exchange of ideas in the study of epistemic images and sedimented discourses about race in aesthetic representation of collections and materials.
Sahai Couso Díaz is a sixth-year joint-Ph.D. candidate in Spanish Studies and Comparative Media Analysis and Practice at Vanderbilt University. She is a 2022-2023 Robert Penn Warren Center for the Humanities Graduate Student Fellow. Sahai received her BA from the University of Havana in 2013 and her MA from Vanderbilt University in 2019. She was a HASTAC scholar and she received a 2020-2021 Mellon Graduate Student Fellowship in Digital Humanities. Her essays have appeared in Bulletin of Hispanic Studies, Chasqui, and Confluencia: Revista Hispánica de Cultura y Literatura.