Narrative Nomads: Resistance in the 21st-century African Hispanophone (Equatorial Guinea and the Western Sahara)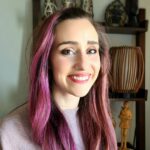 Caroline Colquhoun is a 2022-23 Graduate Student Fellow from the Department of Spanish and Portuguese
For many, the phrase "Spanish Empire" calls up notions of Spain's colonies in the Americas and the Caribbean—places that were decolonized by the end of the 19th century. In Africa, however, Spain's imperial influence lingered far longer. Equatorial Guinea and the Western Sahara are two African locations that were, until the late 1960s (EG) and mid-seventies (WS), colonies of Spain—or, to borrow the euphemistic Spanish term of the day, "overseas provinces" (provincias de ultramar). Since Spain's exit, both sites have seen considerable violence, political repression, and censorship, causing international watchdog organizations to consistently rank them among the world's worst of the worst for civil liberties and human rights violations.  
For both the Western Sahara and Equatorial Guinea, the past four decades have been periods of diplomatic stalemate and political stagnation. Local circumstances in the 1990s generated optimism around sweeping changes and future improvements, but thirty years later, the promises of the nineties remain unfulfilled. In Equatorial Guinea, the 43-year dictatorship of Teodoro Obiang Nguema endures despite electoral irregularities and blatant financial corruption. Following the discovery of petroleum deposits in 1995, the boost to the Equatoguinean GDP has fattened the wallets of Obiang's family and close associates, while most Equatoguineans subsist without reliable access to basic resources like clean water and healthcare. In the Western Sahara, Morocco continues its 46-year colonial occupation of Sahrawi land. An estimated 175,000 Sahrawis remain in exile in Algeria in the "temporary" desert camps they founded in 1976. There, they await the realization of a United Nations-facilitated independence referendum which has been repeatedly promised and postponed since 1991.   
My project, "Narrative Nomads" asks what can be learned from listening to the voices of the understudied younger generations of Equatoguineans and Sahrawis who came of age during these moments. Through analysis of fiction and non-fiction media, I trace their individual and collective responses to the experiences of political instability, material precariousness, hope, and disillusion. I consider these works by Sahrawi and Equatoguinean creators born after 1976 to be "nomadic narratives" because they challenge national and regime narratives in dynamic and unexpected ways. They escape dominant ideas of belonging and identity, fluidly crossing ideological, political, geographic, linguistic, and genre borders. The texts I study sketch a map of contemporary, postcolonial existence in the face of intersecting crises and oppressions. They propose alternative pathways to understanding and coping with the present—in the once colonized nations of Equatorial Guinea and Western Sahara, in the former colonial center of Spain, and beyond. 
My combined approach to the contemporary works of Equatorial Guinea and the Western Sahara seeks to highlight the richness of the contemporary Spanish language cultural productions emerging from the African continent. It also aims to shift analytical emphasis from the former colonial center (Spain) and instead consider Equatoguinean and Sahrawi texts in their own right.  
Because political conflicts, natural resource management, and environmental precariousness are central to the material realities in the Equatoguinean petrostate and the Sahrawi occupied territories and desert camps, my research also contributes to the increasingly pressing and relevant global conversations around environmental sustainability, climate change, and the perils of misleading and nostalgic nationalist rhetoric. The narratives of nomadic resistance offer strategies for coping with life in the contemporary globalized era of political, environmental, economic, and social crises. 
Caroline Beard Colquhoun is a Ph.D. candidate in Spanish Literature and Comparative Media Analysis & Practice who has accepted an assistant professorship at University of Alaska Fairbanks. She specializes in contemporary Spanish literature and film, and her research interests include migration, economic crisis, historical memory, gender, sexuality, and decoloniality. Her dissertation analyzes contemporary representations of the Western Sahara and Equatorial Guinea, two former Spanish colonies in Africa. She proposes that that works by younger Sahrawis and Equatoguineans challenge the current regimes' monolithic discourses and defy binary conceptualizations of postcolonial domination and resistance. Her work is published in Arizona Journal of Spanish Cultural Studies, Revista de ALCESXXI, and Divergencias.