Exploring the Religious and Spiritual Complexity of Black Activism in the U.S.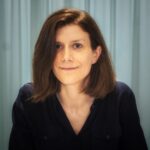 Martina Schaefer is a 2022-23 Graduate Student Fellow from the Department of History.
Upon entering graduate school, I was not quite clear what aspects of U.S. history I wanted to examine in my dissertation project. I had various ideas and knew that I wanted to learn more about the Black radical tradition. For my first-year research project, I delved into the circumstances around a speech Stokely Carmichael, chairman of the Student Nonviolent Coordinating Committee (SNCC), gave at the Vanderbilt IMPACT Symposium in April 1967. Shortly after Carmichael ended his talk, an unrelated event in North Nashville led to a conflict between young people and the police that culminated in three days of unrest. More than eighty people, including George Ware, SNCC's campus program coordinator, were arrested during the events.  
Ware had built a reputation for organizing Black college students in Nashville and aiding efforts to establish a Liberation School for younger kids. His trip with Carmichael to the Conference of the Latin American Solidarity Organization (OLAS) in Havana, Cuba, further raised the ire of national and local officials. Upon his return to Nashville in August, two private citizens drew upon a section of Tennessee's State Code dating back to the times of slavery to get Ware arrested for sedition. The event thrust Nashville into the national spotlight, much to the dismay of public officials, who sought to apply a national strategy instead of continuing to rely on constitutionally questionable laws to undermine Black radical activism. Ware was cleared of the charges one week later.  
George Ware continued to work for SNCC on various campuses and later organized for the Black music industry. What is more, Ware's study of African cultures during his time in the Black Power movement led him to seek a deeper, more spiritual connection with his African roots. A few years after leaving the South to organize in Harlem, Ware received his initiation into Lucumí, the Cuban variant of the Yoruba religion. During the 1980s, Ware sought and found his final spiritual home in Haitian Vodou, reaching the highest level of priesthood in that religion in Mariani, Haiti in 1997. I soon learned that Ware was not the only Black Power activist who developed a strong commitment to African Diasporic religions during or after his time in the movement.
Up to this point, my understanding of Black Power and religion had been limited. I of course knew James Cone's seminal book Black Power and Black Theology and had read about Albert Cleage's Shrine of the Black Madonna. Neither was it a secret that before and after Malcolm X's untimely death, many radical Black activists and artists had been drawn to Islam. But African Traditional and Diasporic religions? Apart from the practice of Kwanzaa, introduced by Maulana Karenga in 1966 as a non-sectarian practice to foster Black unity through African values, little did I know about activists who (re-) connected to the religions of their African ancestors.  
When I entered graduate school, the field of Black Power Studies had successfully dismantled the longstanding notion that Black Power was the beginning of the end of the civil rights movement. Black Power activists' engagement with African cultures was however still often presented as a short-lived and rather superficial trend. Thus, I began to ask myself what the trajectories of the activist-practitioners of Lucumí and Haitian Vodou could tell us about the deeper and lasting layers of these connections.
What could we learn about the Black liberation struggle when we analyze it through their eyes? After all, these activists sought out religions that have been gravely misunderstood, heavily misrepresented, and/or even criminalized in the Western world. I thus sought to understand the ways in which the practitioners' experience as a marginalized group of activists prepared them to become a religious minority within a racialized one. What did these religions give them that other forms of African American religious practices could not? And last, but certainly not least, I wanted to learn how their religious outlook shaped their understanding of freedom and (personal) identity. How did it influence how they defined and worked towards communal liberation? In asking all these questions, my work seeks to broaden our understanding of the religious and spiritual complexity of Black activism in the United States. 
Martina Schaefer is a final year Ph.D. candidate in the History Department. A scholar of modern U.S. history, she specializes in African American History, with a particular focus on the Black Liberation Struggle. Her dissertation centers on the work of activists who started organizing during the Black Power era and were subsequently initiated into African Diasporic religions. It seeks to understand the activists' motives for adopting these religions and examines how their religious practices affected their approaches to communal liberation. Martina received her M.A. in North American Studies, Modern History, and Political Science from Freie Universität Berlin in 2013.