Women in Business: Ellen Kullman Event
Guest Article by Abigail Fournier
On October 7th, the former Director and CEO of DuPont, Ellen Kullman, joined Co-Founder and VP Community Engagement of Vanderbilt's Women in Business, Clee Malfitano to share insight on what it took to be ranked as the 26th Most Powerful Woman in the World*Forbes 2015. Prior to Forbes' 26th most powerful woman ranking, Ellen Kullman received the title of 4th most powerful woman in 2011 according to Fortune Magazine. As the former CEO of DuPont and the company's first and only female CEO in its 200+ year history, Kullmanmore than tripled the company's stock price. She also served as Director of General Motors from 2004-2008, a member of the Executive Committee of The Business Council from 2011-2013, and the Chair for the US-China Business Council from 2013-2015.
In her interview with Vanderbilt Women in Business (WIB), Kullman emphasized the importance of thinking critically about one's job search, challenging students to not simply try to find the most prestigious job possible. Kullman suggested students ask themselves, "What does the employer want from me?", and most importantly, "What am I going to get out of it?" In this way, she higlighted how critical mutuality is when considering careers post-college. Kullman encouraged students to take advantage of the summer as a time to explore different career options and differentiate oneself from peers, as it is increasingly hard to be unique in a more competitive workforce.
Discussing her career as CEO of DuPont, a 212-year-old company, Kullman highlighted the balance she had to reach in honoring what DuPont did well and spurring change during her tenure. She mentioned the difficulty she faced during the 2008 financial crisis, stating that the company had to make 4 rounds of layoffs in 14 months. During this time, Kullman and her colleagues pitched in to make losses as minimal as possible by taking deductions in salaries and time off without pay, which allowed DuPont to save hundreds of jobs.
She attributes her career success to her strong work ethic and reliability, or as she described, "Saying I was going to do something and actually doing it." Encouraging students to know themselves and what they want, along with not obsessing about the future, Kullman suggests being willing to make mistakes and take advantage of youth, as a person's early years are the best time to attempt new things..
During her time at DuPont, Kullman's direct leadership style, which she called "the force of Ellen." However, she learned that a leader cannot solely rely on the force of his or her personality to ensure a company's operational success, as that force will diminish when he or she leaves. Kullman advocated understanding the culture of a company and explained that sometimes organizations need a wake-up call but that other times they need empathy.  She also emphasized the importance of self-awareness as an invaluable skill in the workplace and highlighted that ignoring mistakes is significantly more detrimental to leadership than the mistakes themselves.
Sharing her views on work-life balance, a topic often discussed among female business leaders, Kullman encouraged leaders to be upfront about what they need in terms of accommodations. She stressed the importance of finding a career that you love; as she stated, "If you love what you do, you'll figure it out, rather than be resentful."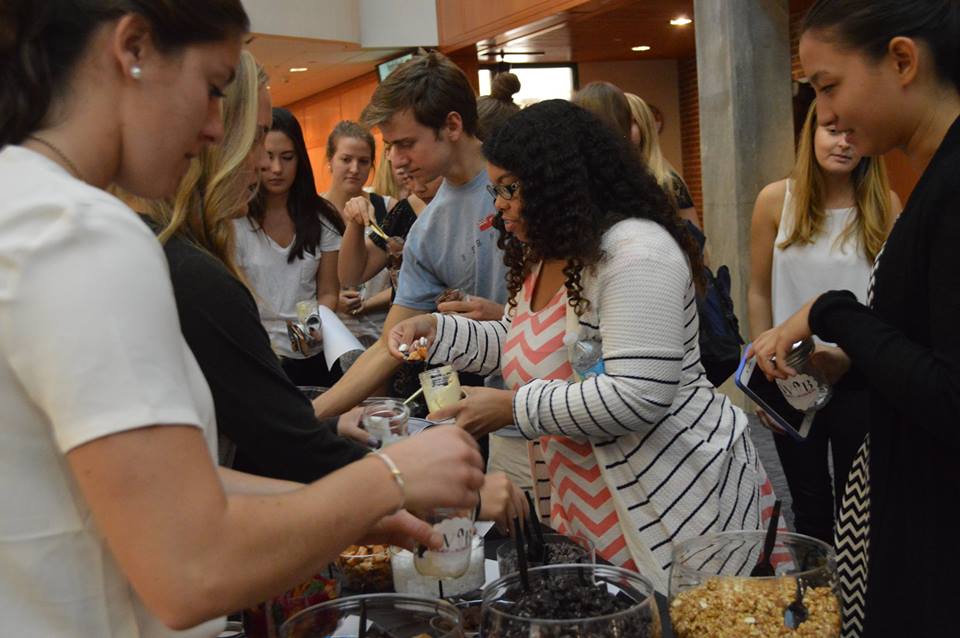 At the conclusion of the interview, Kullman told students to invest time and energy into learning and remaining with one company for an extended period of time, because, generally, an individual learns more about his or her leadership abilities from progression within a sole company.
Overall, Ellen Kullman offered invaluable and applicable advice to undergraduates who attended the first event in the Women 2 Watch Series.