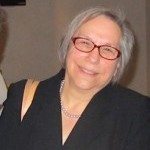 Lecturer in Modern Hebrew from 1982 through 2013
Specialization in Education of the Gifted (Kansas University 1977)
B.A. in Psychology (State University of New York, Buffalo 1973)
B.A. in Education and Counseling (Hebrew University of Jerusalem 1968)
Certificate in Teaching Hebrew as a Second Language (David Yellin College of Education, Jerusalem 1964)
Beloved by her students and admired by her colleagues, Miriam Halachmi was the heart and soul of Vanderbilt's Modern Hebrew program for over three decades. Raised in Binyamina, in northern Israel, she pursued her first degree at the David Yellin Teachers' College in Jerusalem, where she specialized in teaching humanities and in teaching Hebrew as a second language.
In 1993 and 1994, she was among a small group of language instructors selected for the NEH-sponsored Brandeis University Summer Institute for Secondary and Post-Secondary Teachers of Modern Hebrew.
During her years at Vanderbilt, Miriam also served as the education director of Nashville's West End Synagogue. For her work there, she was awarded the prestigious Grinspoon-Steinhardt Award for Excellence in Jewish Education.
Miriam's love of the Hebrew language inspired those who learned under her tutelage. Shortly before her passing, Miriam donated her library of Israeli Hebrew literature to Vanderbilt University's Jean and Alexander Heard Library. Her gift extends her legacy and will help enable future generations of Vanderbilt students to explore the treasures of the Hebrew language.
In Miriam's memory, Vanderbilt's Program in Jewish Studies has inaugurated the Miriam Halachmi Prize for Excellence in Modern Hebrew. This cash prize will be awarded annually to a student who has demonstrated excellence in Hebrew language studies at Vanderbilt.