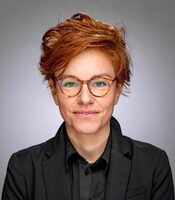 Assistant Professor of German Studies
Max Kade Dean's Faculty Fellow in Contemporary German Studies
I am a scholar of modern and contemporary German literature, culture, and thought, with particular interest in poetry and poetics, critical theory, and memory studies. Trained as a comparatist with specializations in Hebrew and French, I work across languages and media to study how poets, artists, and filmmakers mobilize the resources of aesthetic form to negotiate answers to questions of cultural memory, belonging, community, and ethical relation amidst the crises of the 20th century. My first book project Present Bound: Holocaust Poetry and the Contemporary shows how poets from Paul Celan to Dan Pagis, Irena Klepfisz, and May Ayim mobilize the resources of poetic form to compel the readers' engagement in the present. By focusing on the politically and ethically pertinent effects of poetic form, the book moves the discourse on Holocaust remembrance beyond the long-held focus on witness and representation and offers a new framework for understanding poetic remembrance at large. A new research project investigates the relation between literary modernism and craft practices (weaving, pottery, woodcuts, screen prints); another studies aesthetic tactics of (un)belonging in post-war Germany. I received my PhD in Comparative Literature from UC Berkeley in 2020.
Recently taught courses include: Poems for All; Pop and Protest; Memory and Monuments; Contemporary German Fiction; Great German Works.
Representative publications
"Untimely Memories: Queer Temporalities after National Socialism," in Monatshefte 114:3, Special Issue Slowness, Untimeliness, Rupture: Queer Time and History in German Studies, ed. by Kyle Frackman and Ervin Malakaj. (November 2022).
"Beth—that is the House: Paul Celan's Hebrew Dwelling," in Heidegger in the Literary World. Variations on Poetic Thinking, Florian Grosser and Nassima Sahraoui (Eds.), New Heidegger Research, (Rowman & Littlefield International, 2021).
"A Technique of Closeness, An Art of Straying: Reading with Walter Benjamin," in New Literary History, 50.2 (Spring 2019).
"Between Friends," (with Jessica Ruffin) Qui Parle, 27.2., December 2018.