Sandrine Sanos presents "Post-Holocaust Visions of War and Decolonization in France, 1958-1963"
Posted by fliere on Tuesday, December 12, 2017 in Past Events.
The Program in Jewish Studies lecture series continues with Dr. Sandrine Sanos from Texas A&M University speaking on "Post-Holocaust Visions of War and Decolonization in France, 1958-1963."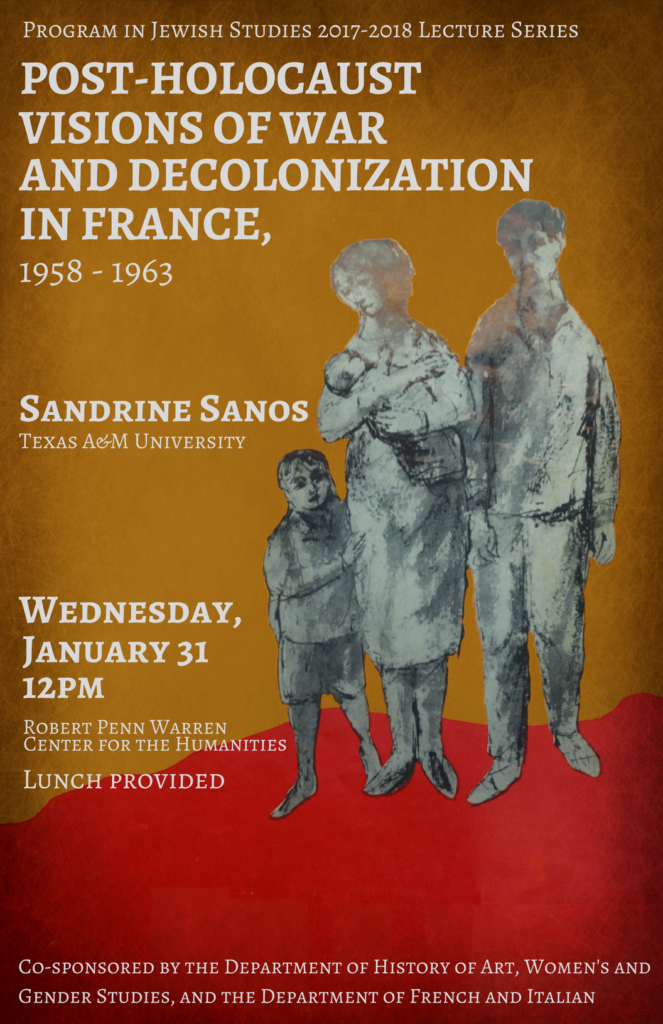 Talk Description:
At the end of 1962, almost six months after the Evian Accords had been signed, bringing the Algerian War of Independence to an end, little-known Polish-Jewish novelist, Anna Langfus, was awarded the prestigious Goncourt prize for her second novel, Les Bagages de Sable. The novel told the story of a young woman who had survived World War Two and its horrors only to live as a displaced orphan in postwar France. The novel and its author may have been an anomaly to the French public. Her story of survival and displacement was less so to those French Jews who were assiduous readers of the glossy monthly magazine L'Arche, which been created in 1957 under the aegis of the Fonds Social Juif Unifié. The magazine offered coverage of Jewish political, social, and cultural affairs in France and in the world. Strikingly, it had prominently featured articles about exiled authors writing about the Holocaust, of which Anna Langfus was one, alongside Elie Wiesel and Piotr Rawicz. Langfus was both an author championed in the pages of L'Arche and one of its contributors. At the same time, beginning in 1960, L'Arche started reporting extensively on the question of "our refugees," namely Jews living in Tunisia, Morocco, and Algeria, and calling for greater understanding especially of the plight of Algerian Jews who, the magazine chronicled, were being "forced to leave colonial Algeria" for metropolitan France. Amidst these reports, L'Arche focused especially on the plight of North African Jewish woman. This talk examines the ways in which a particular (gendered) representation of refugees emerged in those years and how that figure blended the emerging "memory" of Holocaust experience with that of decolonization in order to forge a particular French Jewish identity. The example of L'Arche highlights how "Remembering the Holocaust in an Age of Decolonization" was a complicated and contingent process in a Cold War moment shaped by competing discussions over refugees, colonial wars, and citizenship rather than a question of memory and "cross-referencing."
Co-sponsored by the Department of History of Art, Women's and Gender Studies, and the Department of French and Italian.