Poetry Slam!
Posted by parkismc on Friday, November 19, 2021 in Past Events.
The Center for Second Language Studies and the Jewish Studies Department are excited to invite you to this event series!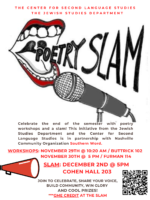 Celebrate the end of the semester with poetry workshops and a slam! This initiative from the Jewish Studies Department and the Center for Second Language Studies is in partnership with Nashville Community Organization Southern Word.
Workshops:
November 29th at 10:20AM in Buttrick 102
November 30th at 5PM in Furman 114
Slam:
December 2nd at 5PM in Cohen Hall 203
Join to celebrate, share your voice, build community, win glory and cool prizes!
*GME credit at the Slam