Jewish Studies Lecture Series – Steven Zipperstein presents "Pogrom: Kishinev and the Tilt of History"
Posted by fliere on Wednesday, September 5, 2018 in Past Events.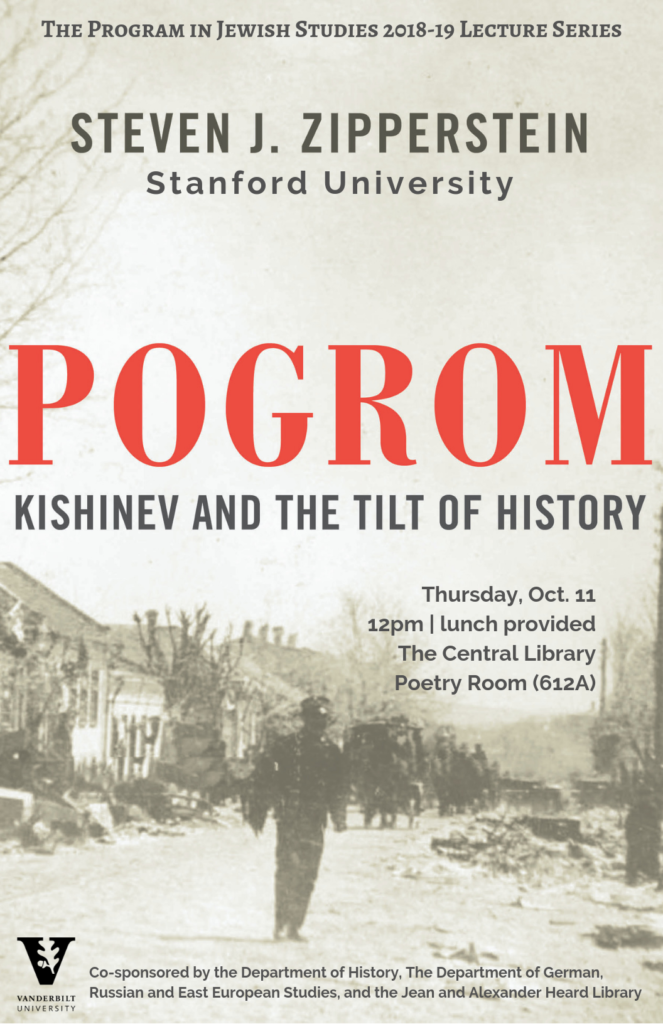 The Program in Jewish Studies is pleased to welcome Steven Zipperstein from Stanford University speaking on "Pogrom: Kishinev and the Tilt of History," also the title of his new book.
The event will take place on Thursday, October 11 at noon in the Poetry Room (612A) of the Central Library. A kosher lunch will be provided.
Co-sponsored by the Department of History, The Department of German, Russian and East European Studies, and the Jean and Alexander Heard Library
Talk description:
In his most recent book, Pogrom: Kishinev and the Tilt of History, historian Steven Zipperstein describes how the provincial city of Kishinev, located at the edge of the Russian Empire, was wracked by three days of mayhem in April 1903, with 49 Jews killed and 600 raped or wounded. The riot would come to be seen as the 20th century's most horrific anti-Jewish massacre before Buchenwald and Auschwitz, and the town's very name came to evoke Jewish suffering and persecution more stark than any other. Zipperstein was determined to trace Kishinev's origins, separating fact from fiction, in an effort to explain the exceptionally long shadow it cast over the rest of the century, and beyond.
Pogrom is a splendid book that pinpoints the moment at the start of the 20th century when exile in Europe turned deadly in a way that foretold the end of everything. It tells us the horror that occurred street by street, butchery by butchery—with gripping clarity and an admirable brevity. —Philip Roth, Pulitzer Prize–winning Author of American Pastoral