From the Chair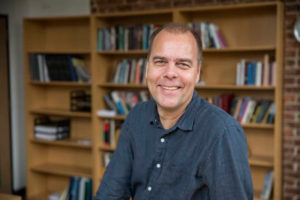 Welcome to the Department of German, Russian and East European Studies at Vanderbilt University.  We are proud to gather world-class faculty in vital areas of research, house one of the leading graduate programs in German Studies nation-wide, and serve our undergraduate students with a stimulating cluster of seminars, learning experiences, research opportunities, and international connections.
Recent developments in Europe—consider the unprecedented arrival of refugees or the controversies about the future of the European Union—make it clear that we cannot understand today's world without understanding the role of both Germany and of East Europe, the dynamics of their histories, cultures, arts, and intellectual traditions. It is one important ambition of our department and its interdisciplinary mix of faculty to provide students with intellectual tools and cultural perspectives to make sense of our complex present in all its historical depth, and to train them to actively engage with our globalizing world as critical thinkers, cultural experts, and mindful interpreters.
Many colleges today place significant pressures on language, literature, and culture departments. The humanities are in a deep crisis, it is said. They do not prepare students for futures dominated by technology, fast-paced global transactions, and individual entrepreneurship. And since evermore people speak English in the world anyway and consume the same products: why, it is often asked, should students face the burdens of studying a different language in the first place; learn about a particular culture's literature, film history, aesthetic traditions; research a culture's unique ways of organizing everyday life?
We at Vanderbilt believe that the study of languages such as German and Russian, that researching literatures and cultures of German-speaking countries and East European societies, matters greatly to understand and impact the present and its future, be it within our outside the academy. We have built a curriculum that prepares our students to participate in today's culture of globalization while being extremely attuned to issues of cultural difference. Many of our undergraduate majors are double majors, productively combing the study of things German or Russian with a degree in, for instance, biology, engineering, and music. Our graduate program enables our doctoral students to become powerful players in the academy as scholars and teachers, as much as it works hard to help Ph.D. students to pursue alternative-academic careers for which many of us may not even have a name yet. Working together with various scholars and units across campus, we expose our students to a wide range of intellectual experiences, whether their primary interest is in literature, poetry, film, visual culture, media aesthetic, sound studies, or intellectual history. Learn more about all this by exploring the various sections of this website.
Crisis? In our department we prefer to use the term crisis in its original meaning, namely as a turning point. What we in fact hope to offer our students are as many turning points as possible: critical moments that leave them see, approach, and engage the world differently than before; that open new perspectives and in so doing change how they understand the present and its pasts.
Please do not hesitate to contact me if you have any questions about the department, its course offerings, its curriculum and many extracurricular activities, its stellar faculty. Should you visit Vanderbilt at some point in the near or far future, please make sure to stop by and get to know us. We are looking forward to your visit.

Lutz Koepnick
Max Kade Foundation Chair of German Studies, Professor of Cinema and Media Arts
Chair, Department of German, Russian, and East European Studies
Email: lutz.koepnick@vanderbilt.edu