Hispanic Heritage Month 2021 at Vanderbilt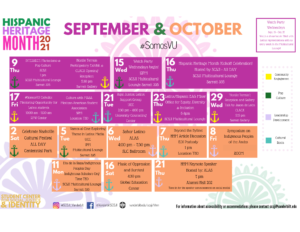 At Vanderbilt University, the Student Center for Social Justice & Identity curates a calendar of events related to Hispanic/Latinx heritage, featuring programs from across campus and the Nashville community.
As in past years, the 2021 Hispanic Heritage Month theme is #SomosVU, which translates to "We are Vanderbilt."
This dynamic message calls the community into conversation and emphasizes the values of connection, inclusion, and celebration that are engrained in HHM. #SomosVU addresses the need for the visibility of Latinx presence, influence, and representation on campus while honoring the accomplishments of Latinx leaders and groups across Vanderbilt's campus. #SomosVU encourages faculty-student mentor relationships, as well as solidarity among allies, to create opportunities to celebrate and elevate their Latinx peers. #SomosVU charges all of us to build an inclusive Latinx community at Vanderbilt University.