Iggy Cortez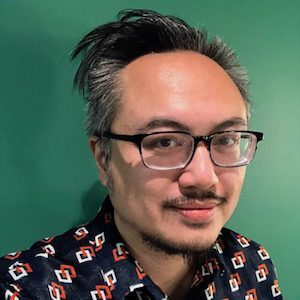 Assistant Professor, Cinema & Media Arts and English
Coordinator, Film Theory and Visual Culture Seminar
(he / him / his)
Buttrick 003C
cesar.ignacio.r.cortez@vanderbilt.edu
Education
PhD, University of Pennsylvania, 2018
Specialization
World Art Cinema
Digital Media Ecologies
Queer Theory
Comparative Critical Race Studies
American Independent Film
Biography
Iggy Cortez is Mellon Assistant Professor in Cinema & Media Arts. His research and teaching interests include world art cinema, critical race studies, diasporic thought, the visual and sensory culture of digital media, and questions of sexuality, cinematic performance, and embodiment.
He is currently at work on a book project on nighttime as a conceptual and sensory threshold across recent world cinema. Through a global range of films by Apichatpong Weerasethakul, Leos Carax, Diao Yinan, Mati Diop, Barry Jenkins, and Tsai Ming-liang, among others, this project looks at the relationship between technologically-mediated perception and the affective and sensory dimensions of the historical present. His article "Licking for the Nation: Auntie Genealogies in Apichatpong Weerasethakul's Rak ti Khon Kaen (Cemetery of Splendour)" is forthcoming in the Journal of Cinema and Media Studies (formerly Cinema Journal) and a second article "Incestuous Wanderlust: 35 Shots of Rum's Atmospheres of Circulation" will appear in Camera Obscura. With Ian Fleishman, he is also co-editing a volume of essays on the relationship between negative affect, cultural politics, and acting through the lens of Isabelle Huppert's performances.
He was the co-curator with Charlotte Ickes of Itinerant Belongings featuring the work of Apichatpong Weerasethakul, Yael Bartana, William Pope.L and Krzysztof Wodiczko, among other artists, at the Slought Foundation and Addams Gallery, as well as Reenactor, a 72-hour continuous screening and installation by William Pope.L at The Slought Foundation. He has also curated film series on representations of murder and nocturnal travels at The Philadelphia Museum of Art and the histories and afterlives of "race films" for the Penn Humanities Forum. Most recently, he served as the faculty advisor for the Tri-Co Film Festival at the Bryn Mawr Film Institute.
He is currently the faculty co-chair of the CinemArts scholarly interest group at the Society of Cinema and Media Studies.
Portfolio
Articles:
"Licking for the Nation: Auntie Genealogies in Apichatpong Weerasethakul's Rak ti Khon Kaen," Journal of Cinema and Media Studies 3 (forthcoming)
"Incestuous Wanderlust: 35 Shots of Rum's Atmospheres of Circulation" (forthcoming in Camera Obscura)
Reviews:
"Review of Michael Gillespie'sFilm Blackness: American Cinema and the Idea of Black Film," ASAP–J (September 2018)
"Allora and Calzadilla: Intervals, Philadelphia Museum of Art and the Fabric Workshop."College Art Association Reviews, November 12, 2015
Curatorial Initiatives: