Vanderbilt in Berlin 2007
WHAT STUDENTS SAY ABOUT VANDERBILT IN BERLIN 2007

Emily Schweickhardt & Mallory Hely

Mallory Hely:


"For everyone that says that they don't love Berlin - all we have to say is:
Wir können das nicht glauben!"

Allie Baschnagel, Emily Schweickhardt, Peggy


Emily Schweickhardt:

"Berlin Summer 07 was the happiest summer of my life.

I love the culture, the night life, the food of Berlin
... everything about the city is amazing. I never want to leave. NEVER!

Peggy was like a second mother to me.
She (more compliments that Peggy omitted here) made Berlin feel like home to me.
I've loved everything about this amazing European adventure."
Mike May
Mike May:
"I had an amazing time having more fun than I thought possible.

Met amazing people who I'll always remember.

Watch out for the heavy beers, they add up!"

Mallory Hely & Brooks Wilhelm
Brooks Wilhelm:

"Ich bin ein Berliner."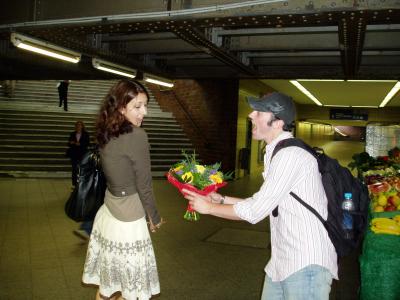 Hannah Hayes gets flowers from Will Hedgecock

Hannah Hayes:

"Ganz wunderbar! So much fun and Peggy is amazing!"



Will Hedgecock

Will Hedgecock:

"Berlin war ganz toll!

Ich will diese Stadt irgendwann mein Zuhause nennen!"



Franziska Junge & Paige Holden
Paige Holden:
"I love Berlin and am so glad that I came on this program!!"

Allie Baschnagel & Paige Holden

Allie Baschnagel:

"Berlin is a great city and provides many opportunities for those learning the German language.
It is such a fun city with so much history!

I recommend this program to anyone who wants to spend their summer
in a new, amazing city AND not having to have a job!"

Chris Sailer

Chris Sailer:

"Speak.
Whatever you do, just speak.

You can't ever imagine the people you'll meet if you just speak!"

Katy Graham & Mike May

Katy Graham:

"Don't listen to anyone who says that chicken kepabs are no good.
They clearly have never been to Rosenthaler Platz.

And stay away from the girls wearing fanny packs and white pants."
Anna Kasiewski
Anna Kasiewski:
"My experience here cannot be described in words. It was the most amazing experience.
I have made so many new friends and had many funny experiences.

Ich liebe Berlin!!"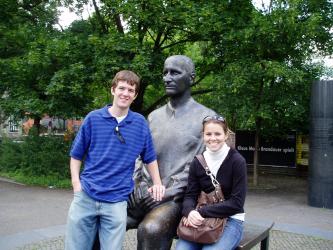 Ben Quigley, BB, & Allie Baschnagel

Writer Ben Quigley is saving his words for his next story on Berlin!
Stephen Wilhelm

Stephen Wilhelm:

"More can be learned on the streets of Berlin than is ever possible sitting in a classroom.
Thus, why wouldn't you take advantage of all that Berlin and its people have to offer?"

Randall: Our guide for the Fat Tire Bike Tour in 2007

And yes, as you asked:

Here is Randall, our awesome Fat Tire Bike Tour guide in Berlin!