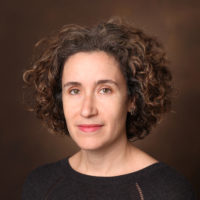 Professor of Jewish Studies, English, and Russian and East European Studies
B.A. (Stanford University 1996)
Ph.D. (University of California, Berkeley 2006)
615.322.1172
allison.schachter@vanderbilt.edu
Office: Buttrick 142
Allison Schachter is Professor of English, Jewish Studies, and Russian and East European Studies. She works on nineteenth and twentieth century modern Jewish culture in comparative perspectives. Her research interests include diaspora, transnational and world literary cultures, gender studies, and minority cultures. Her first book, Diasporic Modernisms: Hebrew and Yiddish Literatures in the Twentieth Century (Oxford 2012) traced the shared diasporic histories of Hebrew and Yiddish modernism. Her second book Women Writing Jewish Modernity, 1919-1939 (Northwestern 2022), a National Jewish Book Award finalist, revises the history of Hebrew and Yiddish modernism by foregrounding women's voices. She is currently working on a new project  on mid-century women intellectuals, which examines how African American and Jewish women writers theorized the postwar moment from feminist and leftist perspectives. She is an avid translator of Yiddish literature. Together with Jordan Finkin she translated  From the Jewish Provinces: The Selected Stories of Fradl Shtok (Northwestern 2021), which was awarded the 2022 MLA Fenia and Yaakov Leviant Memorial Prize in Yiddish Studies.
She received her B.A. with honors in Comparative Literature from Stanford University in 1996. She was awarded a Fulbright Fellowship in 2007 to pursue research on Hebrew literature at the Hebrew University of Jerusalem. She completed her Ph.D. in Comparative Literature at U. C. Berkeley in 2006. She has received grants in support of her work from the Graduate Division at the University of California, Berkeley, the National Foundation of Jewish culture, Vanderbilt University, the National Endowment for the Humanities, The Yiddish Book Center, and the Simon Dubnow Institute.
She has published widely in a range of peer-reviewed journals including, PMLA, Jewish Quarterly Review, Prooftexts, Modern Language Quarterly, Comparative Literature, and Mekhere yerushalayim be-sifrut ivrit.